In a nutshell, this is a book that has a superstar stuffed raccoon on the front cover (whose name is Rory, by the way), talks about cat rodeos, explains the importance of the Spoon Theory and, all in all, tries to tell everybody how hard it is to feel OK when you have a brain that is trying to kill you most of the time.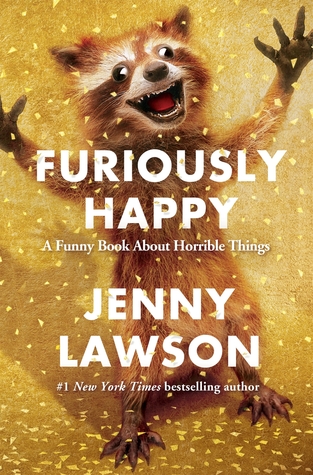 Yes, it's a book about mental illness. A wonderful book full of crazy episodes, distorted logic, and mental illness confessions.
I have been following The Bloggess for the last two years or so and I can't say how much support I have gotten from her posts, when in dark times she would write one that seems just perfect to remind me and everybody else that there's always light coming up ahead.
Jenny Lawson (that's The Bloggess's real name and now it feels like unmasking superheroes or something), she is quite great at doing that and quite rightly she has written a book about it. In her own words:
'[…] sometimes shitty things happen, and sometimes they don't. My rule is 'Enjoy the non-shitty things now because shitty things are coming."'

Appendix: An interview with the Author – Furiously Happy, Jenny Lawson
What is most wonderful about The Bloggess is the way she owns her life. Like when she says:
'I know that I am crazy. And that has made all the difference.'

Pretend you're good at it – Furiously Happy, Jenny Lawson.
Honestly, anything I might write about the Bloggess looks to me as wasting time you could use more efficiently: like reading her blog, for example.
So, click on the link and visit thebloggess.com
You might regret it, or you might not.
Just a tiny warning: it gets crazy sometimes. And it's the most fucked-up amazing crazy you have ever seen.
You can find more info about the book on The Bloggess website or on Goodreads.