This is the February book for 'Our Shared Shelf' book club.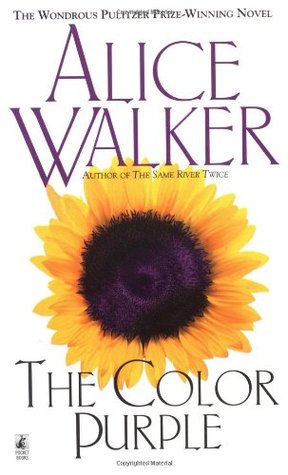 I had never read 'The Color Purple' before. I know it's a book that many have met at school already, but being of my generation and growing up in Italy, I had very little chance to being introduced to Alice Walker's novel – or to Alice Walker in general, for what matters.
I love when this happens in book clubs, even if it's a bit uncomfortable when everyone shouts "Yes! I read it, it's wonderful, amazing, thought-provoking" or whatever other adjective they might think suitable, when in fact, all I can give to the discussion is: "Yeah, I think I heard something about her. Like, she's a novelist, right?"
Now that I have finally met her through her book, I might not know a lot of things about her, but at the same time I know a lot of things through her eyes.
I know how it was to be a black woman in Georgia, US, and has an understanding of mindfulness that goes beyond the one-hour-a-week exercises that my generation is so into right now.
Through Celie's letters, we here Shug explaining that maybe God is there or maybe not, maybe he's a not a He and maybe he's not even a She, but surely he (she) would get very angry if you walked by the color purple without noticing  it.
There's not just this for Celie and Shug to tell us. Their story, as they get closer, is a liberating portrait of a couple of women who found love in one another. No Rom-Com to make it politically correct. No stigma. Only the story – and how beautiful that was.
On the other side of the Atlantic Ocean, then, there's Nettie, Celie's sister, missionary in Africa, amongst people who are even blacker than she is, giving a heart-breaking rendition of what Africans have become, since they came into contact with the white man, since they knew about bicycles and shirts, about ships and money.
This and much else, because other characters revolve around Celie and Nettie and Shug, other stories are told and an entire universe ends up in the pages of this book.
I didn't know Alice Walker when I started. Now I am ever so happy that I met her.